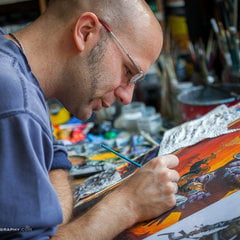 Milivoj Ceran
Professional artist/illustrator
Zagreb, Croatia
About
Professional artist since 2002. Work in traditional media.
Clients:
- Wizards of the Coast (Magic the Gathering, D&D Next 5th edition, Dungeon Magazine, Dragon Magazine, D&D books, D&D Fortune Cards)
- Paizo (Pathfinder)
- Blizzard (Heartstone)
- World of Warcraft tcg (Cryptozoic Entertainment, Upper Deck Entertainment)
- Applibot - Legend of the Cryptids, Galaxy Saga
- Sony Online Entertainment
- FASA Games
- Monte Cook Games
- HEX Entertainment
- Privateer Press
- Green Ronin etc.
Skills
Illustration
Traditional Art
Software proficiency

Photoshop